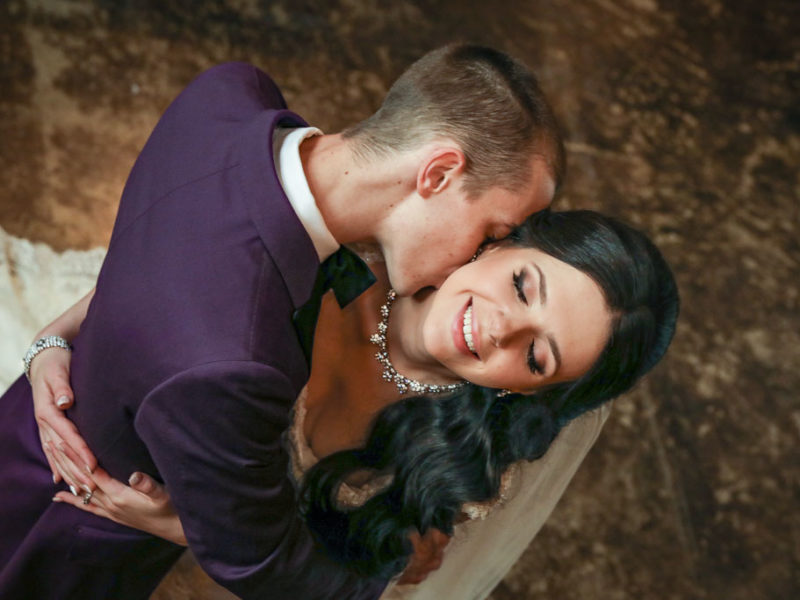 Willows Lodge Bride and Groom Portraits with Seattle Wedding Photographer
I really love the bride and groom portraits — it's their special day–and its how they will remember themselves at their very best on their wedding day years later. This bride and groom had many beautiful outdoor garden and trail locations at this beautiful 5-acre PNW lodge. But they also chose to be indoors to remember the warm, wooden interior with that PNW iconic feeling. We took several images near the lodge's fireplace, then we took images of the bridal party with the bride and groom. Because there is an upper floor that looks over the ground floor loft-style, we were able to look down at our bride and groom from above. Their embrace was tender, and warm, and loving — everything an embrace on a wedding day should be. The groom's purple tuxedo was perfectly complimentary to the bride's beautiful dress and the stunning florals in blush, pale pinks, whites and creams. Historically purple is the color of royalty and aristocracy and it makes a fabulous choice for groom attire. Our handsome groom wore it well.
But back to our bridal party portraits, they were lots of fun. When you put together your timeline for your wedding day, you'll discuss with your planner, your family, and your wedding photographer how much time to allow for different types of images, including your bridal party. Our brides usually love to have one individual image with each brides attendant, and then a few images of the bridal attendants, then a few images of the bridal attendants and groom's attendants, and then a few images of the entire bridal party, which might also include flower girls or boys, or ring bearers, or children bearing signs ("here comes your bride!") or even special gifts or items that become part of the ceremony. Brides and grooms choose people who mean a lot to them! Best friends, longtime friends, sometimes family members they grew up with. It makes the day even sweeter to be surrounded by people you love, that love you.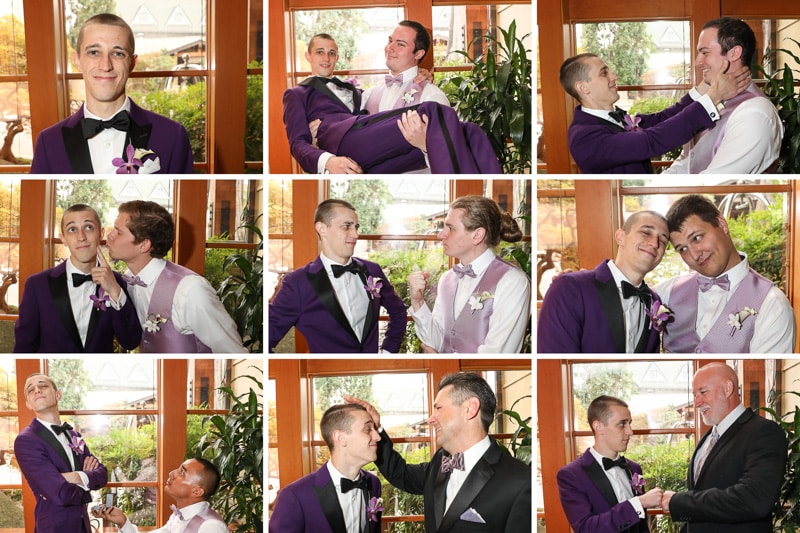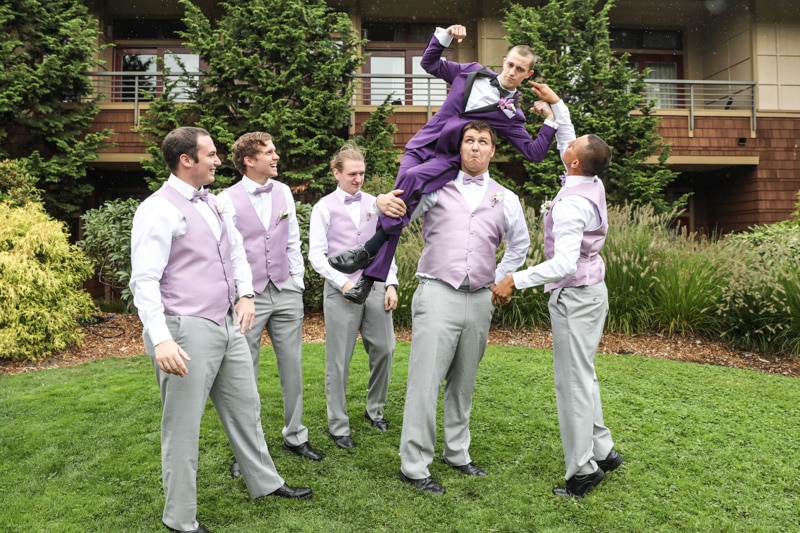 Of course, there's always time to take a well-composed image with all bridal party members clearly facing forward– these images help document every important person who was part of the special day.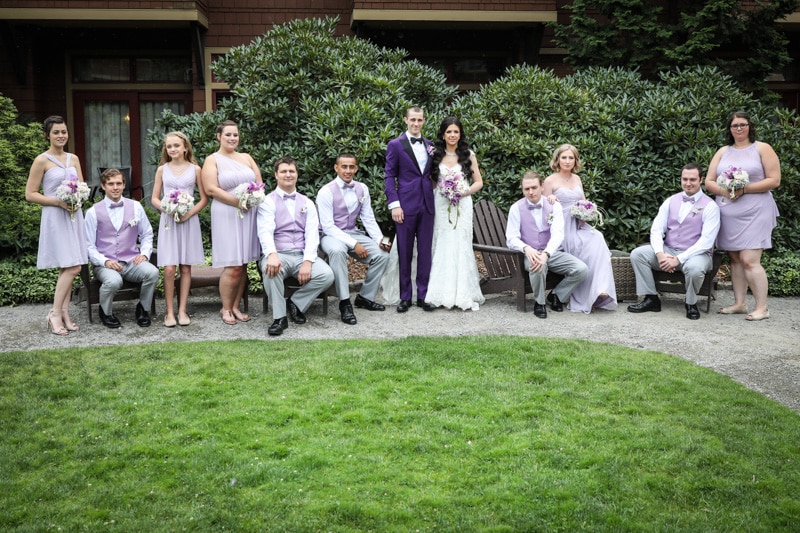 It's really important to put together a schedule for portraits that has plenty of time allowed. In fact, it's better to add some buffer time in there, to allow for anything that slows or slips the schedule on the day of. This buffer will be so helpful on your wedding day because you'll feel able to still take the images while absorbing some of the "lateness" that might happen. Your photographer is a helpful part of this planning by knowing what's important to you–so excellent communication is a must.
Knowing that you have a location or venue for your wedding allows you to also plan for where you have your images taken. For example, at the Willows Lodge in Woodinville — it's near the Sammamish River with scenic paths so if that's your favorite place to be and you have an additional hour dedicated to a bit of travel time to get there and back, you could add that to your images. Or you can be outdoors on the Willows Lodge 5-acres with floral gardens and greenery and forest trees. If the weather doesn't permit any time outside during your wedding timeline, the indoors is also beautiful and offers a variety of areas where you can have your bridal portraits taken–a huge lobby with an iconic fireplace, covered entries, ballrooms or even private rooms where getting ready happens. It's our experience that helps us make beautiful images happen throughout your day — honoring the location/s you've chosen and comfortably within the timeline that still permits the events of the day to unfold naturally.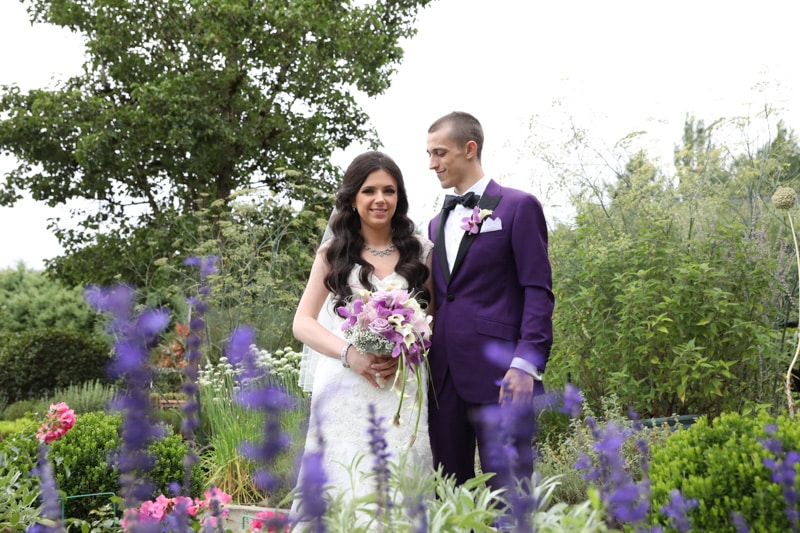 Keywords: Seattle wedding photographer, Woodinville wedding, Willows Lodge bride and groom, Willows Lodge wedding
Copyright © 2018 Frances Gaul Photography
(206) 551-6111
frances.gaul@comcast.net