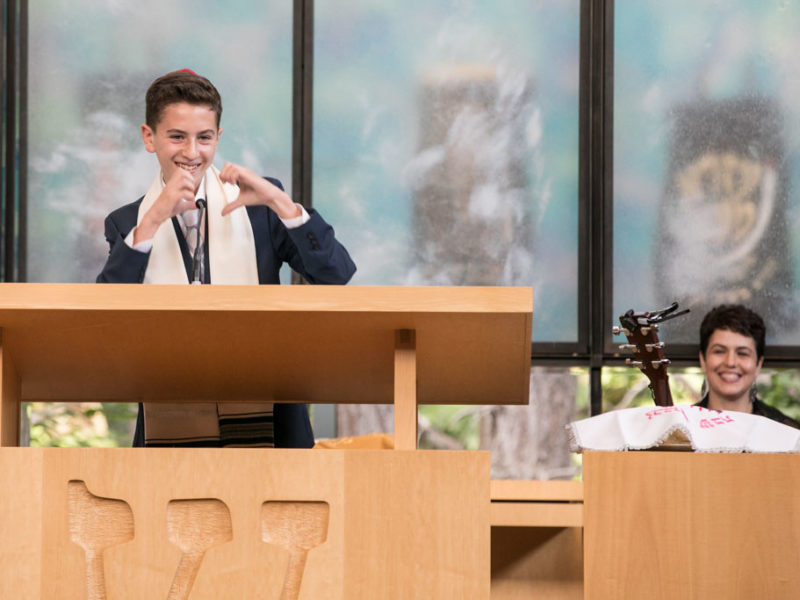 Temple De Hirsch Sinai Bar Mitzvah in Bellevue WA
Each mitzvah service has a place for prepared thoughts, remarks, a speech or even just a few words froedm the bar or bat mitzvah. This particular bar mitzvah was describing something he loved — he was beaming — and he made the symbol for a heart with his hands during his prepared remarks on the bima. He made us all smile, including his parents (you can see his mother smiling here) behind him, seated, listening to him. Sometimes local temples permit photography during the actual service — either a morning service or a late afternoon (havdalah) service.
When we are permitted to photograph during the service itself, we understand the importance of the day that unfolds. We're there first and foremost to allow the service to unfold naturally, without any intervention at all from us as photographers. We are discreet and quiet and we have been fully briefed by the rabbis at the temple to understand where we may be and what parts of the service may be photographed. In all situations, we know that the actual service is the most important part of the day and that our photography takes a discreet, quiet documentary approach that remains as invisible as possible.
Because what a wonderful day it is! The bar or bat mitzvah becomes of age where they are recognized as an adult and, as such, they begin to assume adult responsibilities.
Temple De Hirsch Sinai has two campuses, and this service was at the Bellevue facility. It's filled with light and has an amazing view of a PNW forest from the temple. The acoustics are wonderful for the music that accompanies the services. We've photographed services, luncheon parties, and evening celebrations there also. It's always an honor– and we are delighted to be part of your mitzvah services there.
Keywords: Bellevue Bar Mitzvah, Bellevue Bar Mitzvah Photography, Seattle Bar Mitzvah Photography
Copyright © 2018 Frances Gaul Photography
(206) 551-6111
frances.gaul@comcast.net