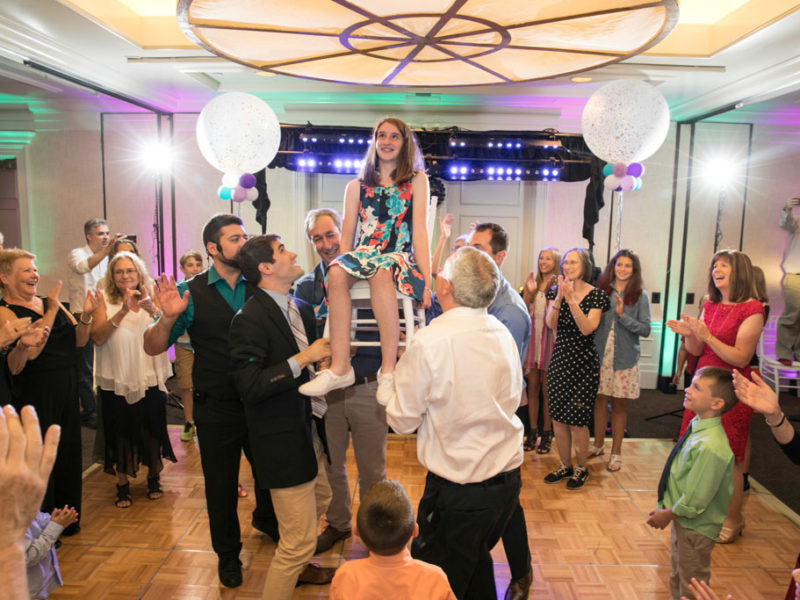 Woodmark Hotel and Still Spa Bat Mitzvah Celebration in Kirkland, WA
Although each bat mitzvah party is unique, sometimes the family chooses to invite family and friends to dance the Horah, where the bat mitzvah is lifted in a chair. It's fun, fast, filled with music and dancing. There's lots of clapping and cheering. Sometimes just the bar or bat mitzvah is lifted in the chair. Sometimes, the other family members are then lifted—including brothers, sisters, and the parents. When you are seated in the chair, and the chair is lifted in the air, you need to hold on tight! And it often makes for amazing expressions both from the seated person and the crowd around them. Occasionally families prefer to have the Horah for Jewish wedding ceremonies. It's really up to the individual and the family to choose which traditions they will embrace. Either way, the party is a time for celebration, hugs, and warm wishes!
The Woodmark Hotel and Still Spa is at Carillon Point in Yarrow Bay on Lake Washington in Kirkland, WA. You can enjoy indoor ballrooms or an outdoor tent on the grass lawn overlooking the dock and waterfront. Either way, it's an amazing location for your party or celebration. It has a lovely ambience for either a daytime event or a nighttime gathering. On this particular day, we were both indoors and outdoors and we enjoyed a wonderful sunset. The guests enjoyed having their images taken with the sunset and water behind them. As the day fell, the twinkling lights of the dock and the hotel illuminated the outdoor areas.
Keywords: Bat Mitzvah Party, Bat Mitzvah Celebration, Kirkland Bat Mitzvah
Copyright © 2018 Frances Gaul Photography
(206) 551-6111
frances.gaul@comcast.net